Meet the 2023 Volunteers of the Year
The Salvation Army Northern Division is celebrating our volunteers throughout the month of April. Check our Facebook page and news feed regularly this month to read stories about the incredible people who donate their time to help The Salvation Army in Minnesota and North Dakota. Find volunteer opportunities near you.
Salvation Army Northern Division volunteers are remarkable people. They give for the greater good and expect nothing in return.
Thousands of them are scattered throughout Minnesota and North Dakota, helping us do the most good in small towns, big cities, and everywhere in between. They cook and serve hot meals, ring bells at Christmastime, help disaster survivors, push paperwork, mentor at-risk kids, and so much more.
Of all our volunteers, several stand out for their uncommon grit, grace and dedication. They are our 2023 Volunteers of the Year: Roy Evans, Ca'Mirah Harris, Michelle Petron, Joyce Vesel, Armani West, David and Amber Eastman, and members of Woodbury Lutheran Church.
This year's winners are among the nearly 20,000 kindhearted volunteers who help The Salvation Army Northern Division provide life-changing services for people and families everywhere.
"Congratulations to this year's Volunteer of the Year winners," said Lt. Col. Dan Jennings, leader of The Salvation Army Northern Division. "Their service and dedication epitomizes the spirit of The Salvation Army and our commitment to serving those most in need."
Divisional (MN and ND)
Exemplary Individual: Michelle Petron
Michelle Petron is a do-it-all volunteer at The Salvation Army in Grand Forks, N.D. Her primary role is in the food shelf, helping to provide groceries for more than 200 families per month.
Michelle comes to the Grand Forks Salvation Army every Thursday and Friday. She makes sure all of the shelves are neat and tidy, along with performing inventory calculations and creating a monthly food order.
Michelle also trains volunteers by showing them how to weigh and record donations, organize food in the refrigerators and freezers, and prepare orders for food shelf guests.
"Michelle is one of our main food organizers and she is terrific," said Major AmyJo Ferguson, leader the Grand Forks Salvation Army.
Group/Family/Business: David and Amber Eastman
This husband-and-wife duo are being recognized for their efforts in coaching a team of 4th/5th grade boys enrolled in The Salvation Army's Rookie Basketball Association (RBA) in Duluth, Minn.
David and Amber Eastman consistently serve the players and their families with love and kindness, and they challenge their players to be the best they can be on and off the court.
"These coaches took our mission to heart by coaching the body, mind and spirit to develop players as young men – not just athletes," said Kris Mallett, RBA Director.
David and Amber model sportsmanship to their team and opponents. Their leadership style makes each child feel comfortable, welcomed and appreciated.
After coaching from November 2022 to March 2023, the couple also won the Dale Stocke Rookie Basketball 2022-2023 Coach of the Year award after being nominated by several parents of RBA players.
Lifetime: Joyce Vesel
For nearly 25 years The Salvation Army in Hibbing, Minn., has been blessed by Joyce Vesel's time, generosity and talents.
She has been actively engaged in volunteering here since 1999, beginning her volunteer career in Christmas activities. She has since volunteered in all other areas of programming, including hot meals, advisory board, food shelf, fresh produce distribution, and more.
Joyce has been given the distinguished title of Volunteer Sergeant. In this role, she oversees other volunteers at the Hibbing Salvation Army.
"She is constantly moving," said Audra Preble, Hibbing Salvation Army case worker, adding that Joyce is known for her "leadership, organizational skills and willingness to take on any project."
Joyce was instrumental in helping the Hibbing Salvation Army's food shelf to transition to a "shopper's choice" model that allows guests to pick out their own food. When she is not volunteering with The Salvation Army, she volunteers at a local animal shelter where she serves as board president.
Twin Cities
Exemplary Individual: Armani West
For the past two years Armani West has been invaluable to the Payne Ave. Salvation Army in St. Paul and its youth programs.
Armani is currently enrolled in an alternative school just down the road. She brings a unique perspective of what it's like to be a young person living on St. Paul's East Side, because she is one. She spends her summers volunteering with Salvation Army youth programs, providing loving mentorship as the kids play sports, take field trips, and learn about God.
"Armani loves volunteering with the kids and relating to them," said Marney Lofgren, volunteer director at the Payne Ave. Salvation Army. "She appreciates us having this outlet for youth in our neighborhood to keep them safe, off the streets, and out of trouble."
In addition to helping with youth programs, Armani also volunteers for food shelf and office projects whenever she is free – after school, on her days off, and throughout summer.
Lifetime: Roy Evans
Roy Evans has been a workhorse volunteer at the Payne Ave. Salvation Army in St. Paul for the past 15 years, logging an incredible 7,262 hours since 2008.
Roy is a military veteran who lives with health challenges. However, his physical limitations do not prevent him from spending many hours sorting and distributing food donations to the local community every week. He also cooks hot meals for those attending Bible studies and Men's Group.
"Roy stays late to ensure a job is well done," said Bonita Lofgren of the Payne Ave. Salvation Army.
Roy goes out of his way to recruit and encourage other volunteers, in hopes that they too will volunteer for The Salvation Army for many years to come.
"He is very kind and hardworking, and always finds treats to share with other volunteers to thank them for their dedication to the mission," Lofgren said.
Group/Family/Business: Woodbury Lutheran Church
Members of Woodbury Lutheran Church have been a volunteer powerhouse every Christmas season since 2006. During the past 16 years, they've rung bells at our Red Kettles for nearly 3,500 hours and raised more than $200,000.
The church always encourages its entire congregation to ring. Together, these ringers bring fun energy to the kettles and often sing Christmas carols during their shifts. Last Christmas, the church expanded its impact by staffing multiple kettle sites. T
The church's efforts were spearheaded by the late Jerry Hanggi, an enthusiastic bell ringer who nicknamed the group the "Ding-A-Lings of Woodbury Lutheran Church." He is pictured in 2012 wearing a custom-made jacket displaying all of the Christmas seasons in which he'd volunteered throughout his life.
Youth: Ca'Mirah Harris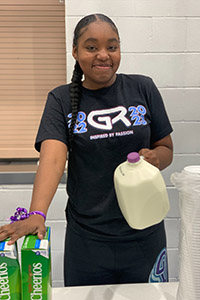 Ca'Mirah Harris's grandmother once told her how fun and meaningful it is to volunteer for The Salvation Army. Intrigued, Ca'Mirah gave it a try.
She hasn't stopped since. Ca'Mirah is now a staple volunteer for the Summer Day Camp program at the Payne Ave. Salvation Army in St. Paul.
She volunteers every weekday all summer long, helping to provide loving guidance and supervision for local youth, many of whom live in challenging homes and neighborhoods. Daily she comes in early to get breakfast and supplies ready for campers, and she invents new activities for the kids to do.
In addition to helping youth, Ca'Mirah also helps serve daily community lunches during summer months.
"She treats everyone as equal and shows so much respect to everyone around her," said Marney Lofgren, volunteer director at the Payne Ave. Salvation Army. "Ca'Mirah is reliable and organized and very mature for her age. She will be returning this summer to volunteer again, and we are looking forward to having her."
Please join The Salvation Army by giving a donation or signing up to volunteer. With your help, we can show families in need that there is Love Beyond their most difficult hardships.